MEASURE AND QUOTE
Measure and Quote is a platform to facilitate renovation and construction project planning and pre-visualisation.
You'd best get familiar with it now,
as it's about to take over the building and construction industry worldwide.
Measure and Quote was founded by Michael Reid, a serial entrepreneur in the building and construction industry for over 20 years. Michael identified signs of progress in augmented reality (AR) technology right on the cusp of advancements that allowed measurement with handheld devices. He swiftly seized the opportunity to measure, visualise and deliver a giant step forward for the building industry globally.
Measure and Quote came to Viewport with a common industry problem:
measuring and writing up a quote was timely and laborious
.
Yet, surprisingly, there was a gap in the market for an Augmented Reality (AR) solution that could efficiently determine the materials, consumables, and work hours needed for renovation and construction projects.

So we leveraged the latest Augmented Reality (AR) technologies and paired them with cutting edge app development to create a precise tool that sits at the top of the market for building industry tech platforms.
Measure and Quote enables:
Rapid measurement of linear, volume and area using AR

Pre-visualisation of Building Materials in-app

Perform complex pricing calculations instantly

Sync with existing sales and ordering software

Request quotes, place orders and track projects in-app
Do all of this, on-site, in minutes – all in one mobile app.
Measure and Quote is a platform. Custom app development per client allows iterations of the app that are fully tailored to your company's specific requirements. Using the power of Augmented Reality (AR) we're changing the way building and construction companies interact with their customers and clients.
You can add your own product list, syncing it to your own existing sales and inventory software. You can then add your own set of high-quality visualisation materials, and use your own complex product calculations, so not only can users see what they are getting in situ through Augmented Reality – they can see how much of it they need. Live in front of their eyes through their smartphone.
We can then generate quotes and sales orders from these product calculations, including adding consumables and installation costs. Integrate this with your existing sales software pipelines, and you've got a tool that will change the way your customers and staff interact with your company forever.
Get in touch with Viewport now to find out how the Measure and Quote platform can take your company two steps into the future.
Industry Insights & Know-How:
The involvement of people at all levels of the construction industry makes the platform universally relevant. So it's not just for the foreman, the architect, or the apprentice – people in all roles can benefit from the platform capabilities.
Guiding our development team, our MD – Julius, brought a broad-scope understanding of the process – having previously created several visualisation apps for the building industry.
Our co-founder and art director's respectively strong architectural backgrounds further strengthened the crew, each bringing hands-on experience in the practical side of architecture and construction.
Last – but certainly not least – Measure and Quote founder Michael's extensive knowledge of behind the scenes happenings in the construction business was a source of insight, from which our team frequently drew.
Research and Collaboration
User Experience
Although the platform is at the global forefront of on-site building industry tech, it is so intuitive that anyone can use it. Just ask Michael, whose 7-year-old uses the app competently, measuring up entire floorplans in minutes.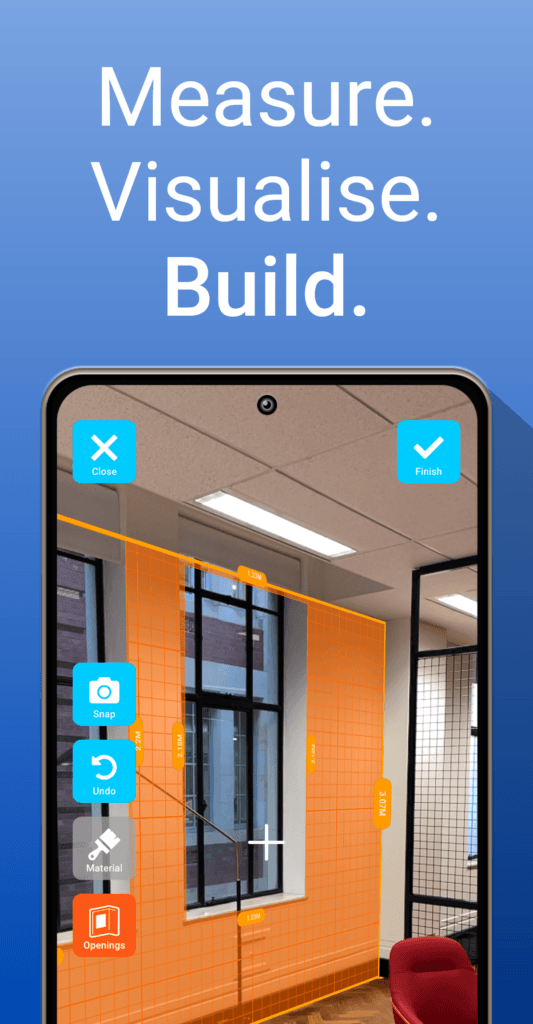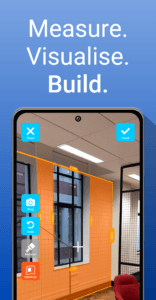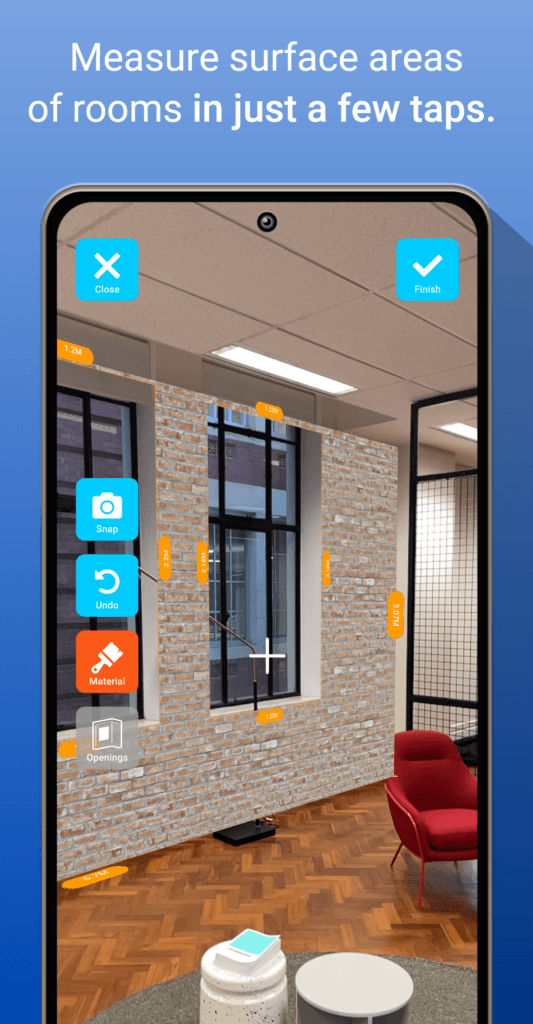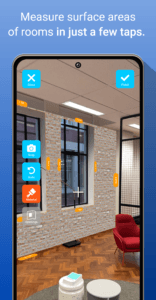 Quality Assurance
Each deployment is thoroughly tested at every major milestone using a comprehensive testing plan. This quality assurance lets us optimise client assets and fine-tune all aspects of the tool's efficiency.
Visual Accuracy
Physical client materials and product are captured using a variety of techniques, with ultra-high realism 'digital twins' created for display in Augmented Reality. The process produces astounding accuracy to the real-world equivalent.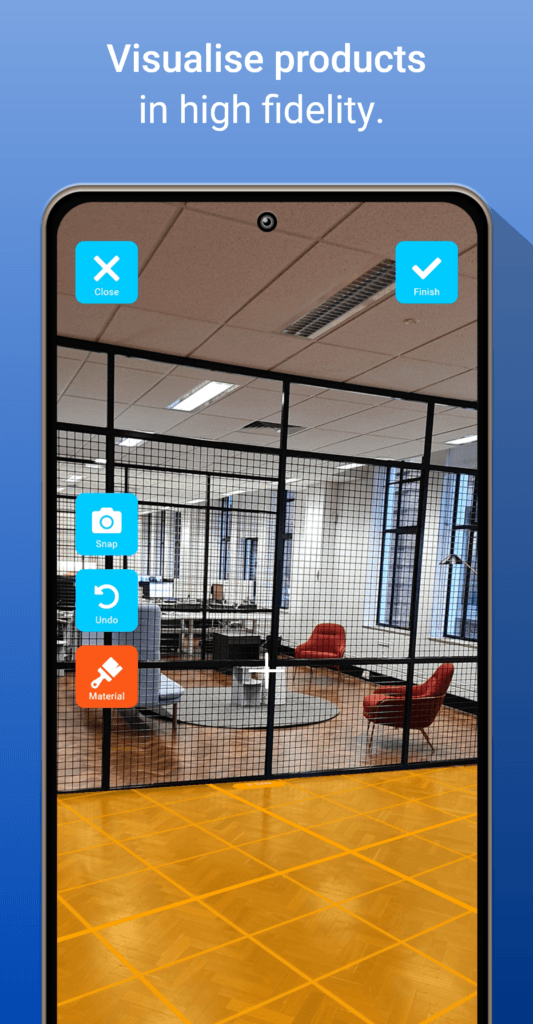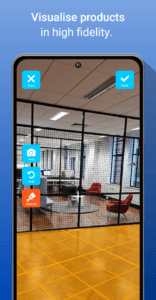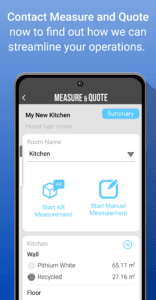 Time Efficiency
Time spent across the entire sales pipeline is heavily reduced using the Measure and Quote platform. Sales reps that are on site will spend less time per job measuring and quoting, tradespeople ordering will place orders faster, your sales process is faster, and customers have quotes and product in hand faster than ever before.
We have already commenced development for two major nationwide suppliers to make their own custom versions of the Measure and Quote platform, with three more signed up for kickoff January 2021. From plasterboard, through to paints and agricultural products – Measure and Quote is shifting the goal posts in a significant way.
Measure and Quote fixes common problems in construction industry ordering:
Indecipherable handwriting




With Measure & Quote's sleek and intuitive interface, you'll never have to worry about illegible handwriting again.

Dirty & Dusty files




Being an app, it will always be as clean as your phone! Additionally, phones are much smaller and more pocketable than binders and files.

Losing files
Do you ever go anywhere without your phone? No? Well, then your purchase orders are always with you. Plus, if your phone is lost or broken, you can simply sign into your account on another device.
Difficulty accessing emails and notes




With Measure & Quote, all of your measurements, purchase orders, and relevant information is stored safely in one app, that is easily catalogued and searchable.

Incorrect measurements




Measure & Quote records the measurement information as it is generated. So no need to worry about scratchings and mess. The clear and concise system will ensure precise numbers, every time.

Lack of order ownership accountability
Say someone measures up the wrong space, ordering an incorrect amount of materials for the actual worksite. The app can identify who made the incorrect order and when it was actioned to make a trail of responsibility. The path to fixing the problem is now clear.
It's about accuracy, seamless digital ordering means that ownership of the order is on the user. Therefore responsibility is easy for all to pinpoint, and reduces questions about inconsistencies.